Barton Priebe. (2021) Adopted by God: Discover the Life-Transforming Joy of a Neglected Truth. ISBN 9781698601014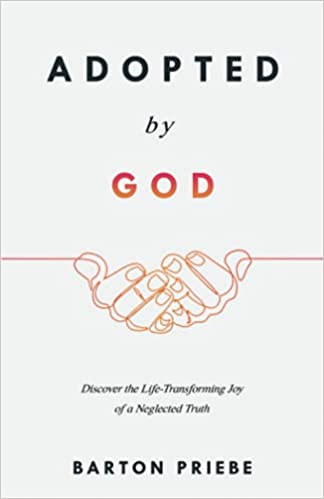 Every Christian has been adopted into God's family. Yet, the great truth of what adoption means has been neglected throughout history and overshadowed by other truths. In Adopted by God you'll discover—perhaps for the first time—the life-transforming joy that comes from being adopted as God's cherished son or daughter.
Through clear biblical teaching and stories from the Priebe family's journey in adopting their son from China, this book will explain what it means to be adopted by God, increase your assurance of God's acceptance and love, provide you with strength to face the most difficult trials in life, equip you to gain victory over sins in your life, and enable you to relate to others in ways that heal the wounds of racism, sexism, and loneliness.
Discover adoption. Encounter joy. Experience transformation.
Amazon Link: https://www.amazon.ca/s?k=Adopted+By+God&crid=3G8LFRKUD9O4R&sprefix=adopted+by+god%2Caps%2C166&ref=nb_sb_noss_1